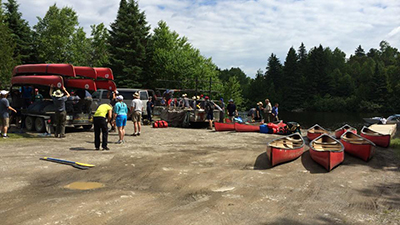 Allagash River Canoe Trips with Katahdin Outfitters gives you and your family that unique, once in a lifetime outdoor experience the Allagash Waterway has to offer. Maine's Allagash River Wilderness Waterway is the canoeist's choice for paddling in this beautiful state. For over 25 years, Katahdin Outfitters has served parties traveling to the "North Maine Woods" to canoe and kayak this most noteworthy river in Maine. Katahdin Outfitters offers rental canoes, camping equipment, and an extensive shuttle service to our valued clients who want to explore the beauty of the Allagash River Wilderness Waterway!
The Allagash River, designated as a National Wild and Scenic River in 1970, is a great trip for not only flat water paddlers and fishing but for viewing and photographing wildlife as well. The Allagash Waterway is widely recognized as one of the best canoeing areas in the country, and deservedly so.

This beautiful 92-mile long watershed that encompasses the Allagash River also provides some quick water and class II whitewater paddling as well. Those that wish may make the portage around these areas. There are numerous designated picnic areas and campsites along the way down the Allagash River.

Our base which is located in Millinocket, Maine, is directly on the major access route to the Allagash Waterway area. As an established Allagash wilderness outfitter, we at Katahdin Outfitters feel the most valuable service we can offer you, our customer, is to assist in trip planning, routing and as a reliable source of up-to-date canoeing and waterway information. In an effort to make your vacation a unique, custom, and memorable experience, we have many trip/gear options available for your Allagash River canoe trip!

For our customers' convenience with their trip planning, we offer this link to USGS Real-Time Water Data for the Allagash River. Check here to view up to date water levels and flows on the Allagash Waterway.
We also offer this link to a map of the Allagash Wilderness Waterway. Not just a map but a very valuable trip planner for those seeking enjoyment on the waterway.